This is the FAN CLUB! As a member of The Fan Club you get exclusive access to tonnes of unreleased George Clanton and ESPRIT 空想 which will be regularly added throughout the year. There is also a George Clanton Podcast, and an ongoing series of chillout mixtapes called "Sleep Tapes."

New since 2023, members of the Fan Club get access to the archived episodes of The Big Stream for each episode that they maintain membership.

To members of The Fan Club, I'll be giving away something sick to a random fan every month. In the past we've given away flight tickets to ElectroniCON, vinyl test pressings, the sneakers from the "Slide" album cover, and thousands of dollars worth of out of print merchandise from my archives!

ALERT For Music Producers: music producer, in The Fan Club "ZONE" you get Unlimited access to some of my drum and synth sounds to load into your sampler and use in your own original compositions. We also have stems to many George Clanton and ESPRIT songs for you to try your hand at REMIXING!

There are many works-(no longer)-in-progress that the world isn't ready for, but can be shared here. There are dozens of unreleased tracks available behind these doors, Unseen video footage, Live audio recordings from now to going back years ago, and 3+ years of random exclusive fan-club-only updates. Want to watch George Clanton talk to himself for 40 minutes? We've got that. What to see how some songs were made? We've got that.

At the heart of all this is a fans-only Discord server (chat room) where fans and George interact regularly, sharing our favorite songs and more. Many of the fan club's best ideas came from impromptu conversations on the Discord!

Your subscription goes directly to keeping my dream alive, and for that I thank you from the bottom of my heart.

P.S. you also get 15% off 100% Electronica Merch
Here's what you get:
All the new music I make

streaming instantly on your mobile device via the free Bandcamp app, and also available as a high-quality download.*

Access to subscriber-exclusive messages:

These back-catalog and subscriber-only releases:
The option to purchase exclusive merchandise:

George Clanton "Chillwave Classics" shirt

Mirror Kisses Sonic Shirt

Mirror Kisses Classic Shirt

Mirror Kisses - Soaking Wet [Fan Club Exclusive] [LTD 300qty]

Bad Dreams
Mirror Kisses - Bad Dreams LP [Gold Nugget Fan Club Edition] [LTD 200QTY]

Mirror Kisses

100% Electronica
5 Year Anniversary 2xLP Deluxe Gold Nugget Fan Club Edition

George Clanton's Secret Selections Volume 1 Double LP on Gold Nugget Vinyl [Fan Club Only]

Slide
Slide LP on Gold Nugget® Vinyl [Fan Club Exclusive] [200QTY]

virtua​.​zip
ESPRIT空想 - virtua.zip LP on Gold Nugget® Vinyl [Fan Club Exclusive] [200QTY]

ESPRIT 空想

Heartbeats
Gold Nugget® Vinyl [Fan Club Exclusive] [LTD 200QTY]

Mirror Kisses

Mirror Kisses / Kids Garden - Dance Decree / Light Hearted - Split 12" 10 Year Anniversary Rainbow Foil Edition™️ [Fan Club Exclusive]

200% Electronica
200% Electronica on Gold Nugget® Vinyl by ESPRIT空想 [Fan Club Exclusive] [200QTY]

ESPRIT 空想

ESPRIT 空想 - Unreleased & Rare Volume 1 Cassette

George Clanton Fan Club Hat

The satisfaction of knowing you're supporting me in a sustainable way.
You're a subscriber
Thank you!
* Downloads are DRM-free and available in MP3, FLAC and
more
.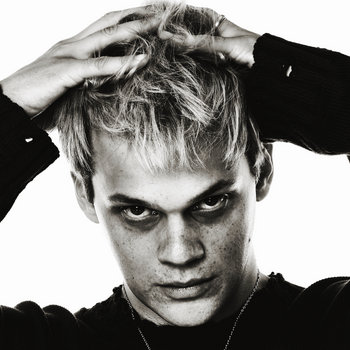 George Clanton
Los Angeles, California
Formerly known as Mirror Kisses. Also known as ESPRIT.

Utilizing elements of grunge, acid house, trip hop, shoegaze and vaporwave as a sonic palette, George Clanton makes nostalgic music for the modern era.